From the first meeting to beyond the close, you can count on us.
Finding the right real estate agent is the first step to finding the right home. As your buyer's representative, we're committed to meeting your needs—and since our commission is paid for by the seller, you receive our services for free! As you look for your new home, we provide you with insights on the housing market to make the search more efficient. When you're ready to make an offer, our expert negotiating skills will help get you the best possible sale price, and we'll ensure that you understand every detail of the transaction.
Search for your next home
Claim your FREE neighborhood map!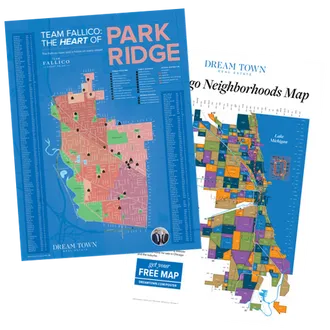 Searching for the perfect neighborhood? Whether in Park Ridge or Chicago, these maps make a handy guide as you embark on your home search.
Having known Craig Fallico for many years we knew we could trust and count on him to do a great job. Craig still exceeded our…

There is so much I can say about Nick Fallico! He's patient, kind, trustworthy and works really hard for his clients! I met Nick about…

When you want a team that cares, Team Fallico is the best choice. A father and son son super team that cares about every person…

Team Fallico was a pleasure to work with. Their responsiveness was always prompt, they clearly guided me through every phase of the transaction, and I…

I was relocating to be close to family after the death of my husband. Craig and Nick showed so much care and compassion and gave…

My husband and I were first-time homebuyers and Kristin was our agent. She was great at communicating with us and getting us through the process,…